This is the beginning of (hopefully) a regular Tuesday blog post from me. My children rarely (ok, they don't) eat vegetables, with the exception of little Nate who most of the time will eat anything and everything in site, including non-food items ; )
So I am on a Mission.
To get those vegies in disguise, to wiggle their way into some old and new recipes, and put food on the children's plates that they WILL eat, that they WILL enjoy and that they WILL ask for more of!
So what have I baked today and did I succeed! Pumpkin Chocolate cupcakes is on the menu today for morning tea - but did they eat them??? Continue reading to find out if they did!
Pumpkin Chocolate Cupcakes
1/2 cup SR Flour
1/2 cup White Sugar
1/4 cup Milk
1 egg
1/2 tblspn vanilla essence
1 1/2 tblspn butter
2 tblspn cocoa
1/2 cup cooked Pumpkin (steamed and mashed)
This will make approx. 12 mini cupcakes. If you want to make more, just double the recipe : )
Mix all ingredients together in a bowl, fill your cupcake wrappers with the mix and bake for approx. 15 minutes in a mod-oven. Cooking time may vary, so best just to keep an eye on them and test with a knife - if it comes out clean they are cooked : )
(Now I have a new oven that the temp is always too hot when reading recipes and it seems to cook things faster too ; ) So in my oven I cooked these for approx. 15 minutes at 170 C fan-forced.)
Of course, once I had popped them in the oven Matilda asked if she could lick the bowl and spoon. I was hesitant, what if she tasted the pumpkin and decided that she was 'definitely not' eating those cupcakes. Well, she licked the bowl clean . . .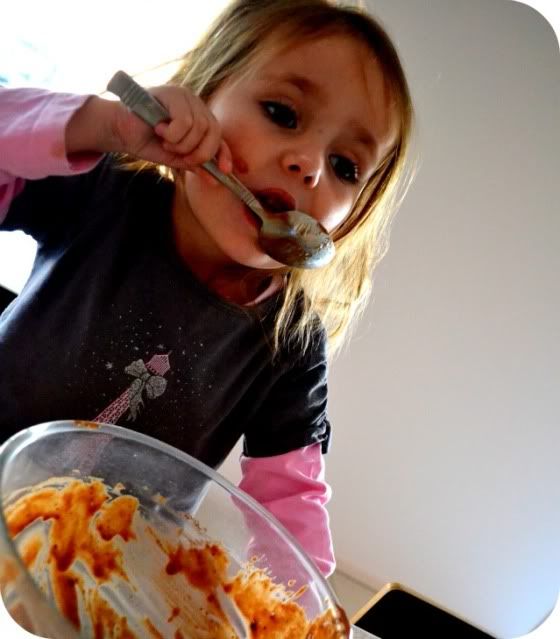 and when they were cooked? She ate 2 for morning tea . . .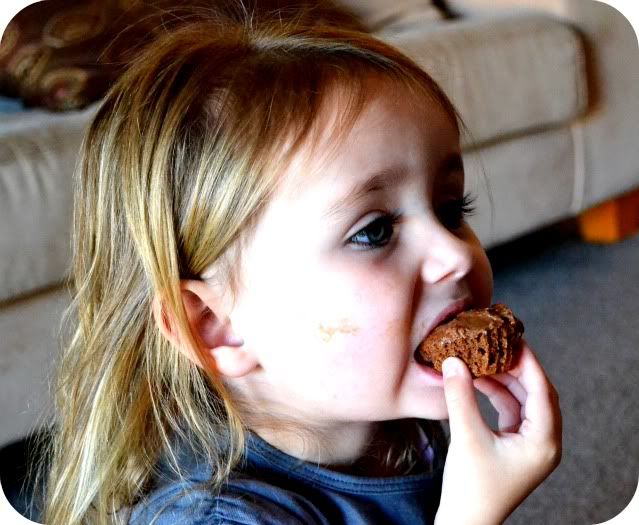 as did Tom . . .